Skaggs & Hornsby to Perform Song from New Album, CLUCK OL' HEN
National Television Performance Airs Thursday, October 17 at 11 PM ET on TBS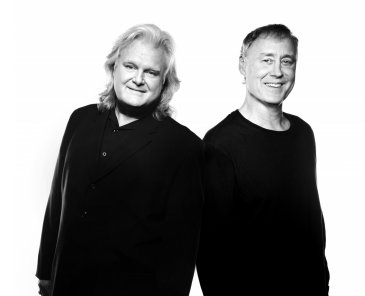 Nashville, Tenn. (October 14, 2013) – Music icons RICKY SKAGGS and BRUCE HORNSBY are set for a national TV performance on CONAN (TBS) this week.
The unlikely musical duo will appear on the hit late night television show this Thursday, October 17 at 11 PM ET. Skaggs and Hornsby will perform a Bluegrass version of Hornsby's classic hit, "The Way It Is." The song is featured on their new live album, CLUCK OL' HEN, which debuted at #1 on the Billboard Bluegrass Music Chart.
Cluck Ol' Hen's live material was originally recorded when the two first paired for a studio album and tour.
Skaggs and Hornsby are currently on-tour in support of the new album. For current tour dates and more information on Cluck Ol' Hen, visit www.skaggsfamilyrecords.com.
TUNE-IN:
Thursday, October 17, 2013